We offer wedding mandap. we are one of the most preferred manufacturers and exporters of wedding mandap that is intricately designed by our artisans. Made up of superior quality ...
Kirti International
Gujarat, India | Manufacturer / Exporters / Wholesale Suppliers
http://www.exportersindia.com/kirti_international/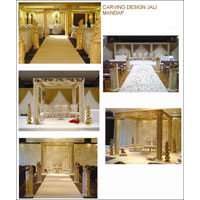 We are offering wedding mandaps. our wedding mandap set will consist of the 1. Entrance gate, 2. Walk way pedestals, 3. Main centre mandap or chowri, 4. Two chairs, 5. Two ...
Dave's Export House
Gujarat, India | Wholesale Suppliers
http://www.exportersindia.com/daveexporthouse/
Shyam Agencies
Gujarat, India | Manufacturer / Exporters / Wholesale Suppliers
http://www.exportersindia.com/shyam-agencies-pre-press-service-provider/
Kothari Sales Corporation
Gujarat, India | Manufacturer / Exporters / Wholesale Suppliers
http://www.exportersindia.com/kotharisales/
Sangam Furniture Sankheda
Gujarat, India | Manufacturer / Exporters / Wholesale Suppliers
http://www.exportersindia.com/sangam-furniture-sankheda/
Navrang Handicraft
Gujarat, India | Manufacturer / Exporters / Wholesale Suppliers
http://www.exportersindia.com/navrang-handicraft/
Shri Hari International Art
Gujarat, India | Manufacturer / Exporters / Wholesale Suppliers
http://www.exportersindia.com/shri-hari-international-art/
Classic Mandap Bazaar
Gujarat, India | Manufacturer / Exporters / Wholesale Suppliers
http://www.exportersindia.com/classic-mandap-bazaar/
Mandap Makers
Gujarat, India | Manufacturer / Exporters / Wholesale Suppliers
http://www.exportersindia.com/mandapmakers/
Wedding Decorator
Gujarat, India | Manufacturer / Exporters / Wholesale Suppliers
http://www.exportersindia.com/weddingdecorator/
Ashit Fashions
Gujarat, India | Manufacturer / Exporters / Wholesale Suppliers
http://www.exportersindia.com/ashitfashions/